2017 -
J. Neurogastroenterol. Motil.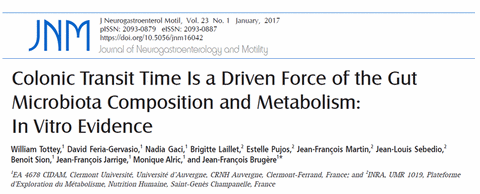 Abstract

Background/Aims:
Human gut microbiota harbors numerous metabolic properties essential for the host's health. Increased intestinal transit time affects a part of the population and is notably observed with human aging, which also corresponds to modifications of the gut microbiota. Thus we tested the metabolic and compositional changes of a human gut microbiota induced by an increased transit time simulated in vitro.
Methods
: The in vitro system, Environmental Control System for Intestinal Microbiota, was used to simulate the environmental conditions of 3 different anatomical parts of the human colon in a continuous process. The retention times of the chemostat conditions were established to correspond to a typical transit time of 48 hours next increased to 96 hours. The bacterial communities, short chain fatty acids and metabolite fingerprints were determined.
Results
: Increase of transit time resulted in a decrease of biomass and of diversity in the more distal compartments. Short chain fatty acid analyses and metabolite fingerprinting revealed increased activity corresponding to carbohydrate fermentation in the proximal compartments while protein fermentations were increased in the lower parts.
Conclusions
: This study provides the evidence that the increase of transit time, independently of other factors, affects the composition and metabolism of the gut microbiota. The transit time is one of the factors that explain some of the modifications seen in the gut microbiota of the elderly, as well as patients with slow transit time.

Tottey W, Feria-Gervasio D, Gaci N, Laillet B, Pujos E, Martin JF, Sebedio JL, Sion B, Jarrige JF, Alric M, Brugère JF.
Colonic Transit Time Is a Driven Force of the Gut Microbiota Composition and Metabolism: In Vitro Evidence.
J Neurogastroenterol Motil. 2017 Jan 30;23(1):124-134.
doi: 10.5056/jnm16042. PubMed PMID: 27530163; PubMed Central PMCID: PMC5216643.