Etudiants et stagiaires
Fidèle à sa vocation formatrice, le groupe accueille chaque année des étudiants pour des stages. Ceux-ci participent à la vitalité des travaux et à l'avancée des programmes de recherche.
Si vous désirez solliciter un stage d'études, merci de renseigner le formulaire disponible ici
Etudiants de l'IUT de l'Université Clermont Auvergne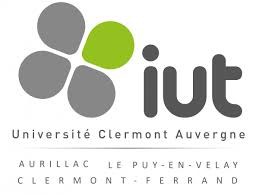 Le laboratoire étant en partie constitué d'enseignants-chercheurs de l'Université Clermont Auvergne, et plus particulièrement de l'IUT (Institut Universitaire Technologique), de nombreux étudiants viennent se former dans le cadre de leur stage de fins d'étude. Il s'agit majoritairement de stagiaires du département de Génie Biologique de Clermont (option Analyses Biologiques et Biochimiques ABB) où JF Brugère est maître de conférences en biochimie, biologie moléculaire et biotechnologies (section CNU 64). Il s'agit également d'étudiants de l'option Bioinformatique de l'IUT d'Aurillac. En moyenne, 1 à 2 étudiants sont ainsi accueillis chaque fin d'année universitaire pour un stage d'au moins 10 semaines.
Etudiants de Master 2
Des étudiants viennent effectuer leur stage pratique de Master 2 (4 à 6 mois) dans le groupe. Il s'agissait auparavant essentiellement d'étudiants de la filière Nutrition Humaine du Master Nutrition, Santé et Alimentation de l'Université d'Auvergne, mais également de nombreuses autres filières. Pour certains, ce fut l'occasion de découvrir le laboratoire afin de réaliser leur thèse de Doctorat d'Université.
PhD students
They hold a special place because of the time spent together and the energy they have spent in the laboratory.
Ils ont travaillé avec nous...
Liste chronologique des étudiants stagiaires
| | Year | Funding | Topic |
| --- | --- | --- | --- |
| Agnes MIHAJLOVSKI | 2006-2009 | Ministerial scholarship | Re-evaluation of the biodiversity of the microbiota methanogen intestinal human and influence of age on its constitution |
| William TOTTEY | 2010-2013 | CPER scholarship | Development tools and application to study in vitro of the intestinal microbiota of the elderly person. |
| Nadia GACI | 2012-2016 | Ministerial scholarship | Native intestinal microbiota of the old person methanogenic Archaea: study in vitro of their metabolic functions in the colonic ecosystem. |